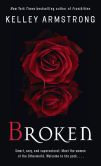 Broken
is the sixth book in Kelley Armstrong's Women of the Otherworld series. This entry finds Elena pregnant and bored. Clay and Jeremy hover other Elena like panicky, mother hens. To break up the boredom Elena takes on a job. It was suppose to be simple: steal a letter allegedly written by Jack the Ripper and deliver it to the client. It all goes well until Elena accidentally opens a portal to Victorian England allowing various undesirables to pass through and wreak havoc on twenty-first century Toronto.
Each of the books in the Otherworld series is lead by a woman of a supernatural nature. So far there has been a werewolf, two witches, a ghost. There is also a necromancer but she hasn't led a book of her own yet. Elena and the werewolves have long been my favorite so I was glad this book got back to them. Elena is pretty kick ass as usual, all be it a little slower and off center what with the pregnancy throwing off her balance. I can never decide if Clay is controlling or romantic, perhaps a little of both. What I was most interested in was Jeremy and...Jaime. Jaime and Jeremy met in prior book and the sparks were flying, at least on Jaime's side. Jeremy is harder to figure out. He's quiet and reserved, and reluctant to let others in, especially woman. I want them to hurry up and happen.
The Jack the Ripper storyline was fine but definitely not the best part of the story. It didn't shed any light on werewolf mythology or the relationships between them and that's really what I like most about this series. The culprit behind the Ripper mess was pretty obvious but I still enjoyed the twists and turns. This was not my favorite in the series but it was good enough.
There are thirteen books in the series plus various novellas, short stories, and the like. I am determined to get through them all before 2015 is over.