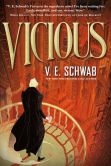 Victor and Eli are college roommates. They're both top-of-the-class brilliant, a bit arrogant, and interested in the possibilities of EOs, that is people with extraordinary abilities. With some research and experimentation the two friends find a way to create an EO. One of the men quickly comes to see the potential danger of EOs . The other man sees their potential usefulness or at the very least, doesn't see EOs as inherently dangerous or evil. Soon the former friends find themselves on opposite sides of an escalating battle.
With short chapters that jump between different time periods - when Victor and Eli were college students to the present day and various points in between -
Vicious
was a quick, fun, and thoughtful read. It started out a little slow, but once I got into the story I was hooked and wanted to see who would win this battle of wills, and more importantly, how.
Someone could call themselves a hero and still walk around killing dozens. Someone else could be labeled a villain for trying to stop them. Plenty of humans were monstrous, and plenty of monsters knew how to play at being human.
(page 289)
In the 2000 movie X-Men there are people who want to annihilate the X-Men simply because they are the X-Men. Most of the EOs in
Vicious
aren't quite as flashy as the X-Men but a similar thread of fear flows through this story, sometimes warranted and sometimes not. Aside from the superhero related tropes, quotes like the above made me thing about war and killing and who gets labeled a hero and who gets labeled a criminal or a terrorist. There is clearly a bad guy in this story, at least in my mind, but there isn't necessarily a good guy. Victor and Eli are both arrogant and vindictive. Both kill but their motives are different. Perhaps that is what separates heroes from villains, their motivations, or maybe heroes are just few and far between.